Kumaon Tourist Map by Misty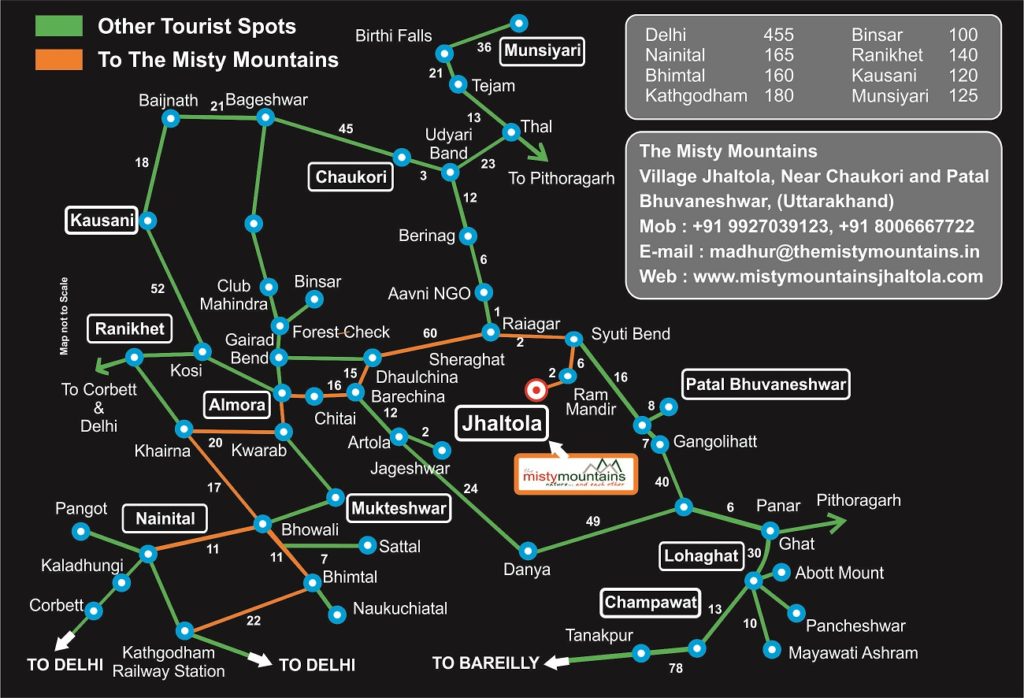 HOW TO REACH US:
The Misty Mountains
Jhaltola Estate
(Between Chaukori and Patal Bhuvaneshwar)
Near Ram Mandir, P.O. Jadapani,
Tehsil – Gangolihat, District Pithoragarh,
Uttarakhand – 262534
Pre- booking: Ms. Kavita Goel- +91 9910345220 / [email protected]
Post booking: Mr. Madhur Chhabra: +91 99270 39123
By air:
Delhi (Del)- Pantnagar (PGH)- Delhi (DEL)- about an hour's flight and eight hrs drive to Jhaltola estate from thereon.
Delhi- Pantnagar: AI 9815- 0955 hrs- 1100 hrs- Operates on W,F,S,S
Pantnagar- Delhi- AI 9816- 1120 hrs- 1215 hrs- Operates on W,F,S,S
The flight is managed by Alliance air and operates between IGI ariport  Terminal 1 and Pantnagar airport 4 days a week 
By rail:
Ex- Delhi- Haldwani or Kathgodam (Haldwani and Kathgodam are sort of twin towns. Kathgodam is the last station) From Kathgodam, we are 195 kms drive away (7 hrs). You could take a taxi or we can help you get one.
1. Ranikhet express: daily
Old Delhi Railway station (DLI)- Kathgodam Station (KGM)- 2200 hrs- 0505 hrs
Kathgodam Railway Station to Old Delhi Railway station: 2040 hrs- 0400 hrs
2. Delhi Kathgodam Shatabdi Express- Daily
New Delhi Railway Station (NDLS)- Kathgogam (KGM)- 0600 hrs- 1140 hrs
Kathgodam- New Delhi railway station- 1535 hrs- 2105 hrs
3. Uttaranchal Sampark Kranti express: Daily
Old Delhi Railway station (DLI)- Kathgodam station (KGM)- 1600 hrs- 2245 hrs
Kathgodam Railway station- Old Delhi railway station- 0845 hrs- 1525 hrs
By road: From Delhi- 470 kms/ 14 hrs
From Delhi to Bhowali- 314 kms/ 8.5 hrs
Delhi – Ghaziabad – Hapur – Gajraula – Moradabad – Rampur – Bazpur – Kaladhungi- Haldwani- Bhimtal- Bhowali.
From Bhowali to Almora- 53 kms/ 1.5 hrs
Route 1: Bhowali – Khairna – Garampani – Khwarab- Almora (preferred)
Route 2: Bhowali – Ramgarh – Nathuakhan – Satkhol – Khwarab – Almora (alternate)
From Almora to Raiagar:
Route 1: 2kms before almora right turn for Chitai temple. Straight to Barecheena. Left from Barecheena to Dhaulcheena..Sheraghat.. Straight to Raiagar. At Raiags Bhowali – Ramgarh – Nathuakhan – Satkhol – Khwarab – Almora (alternate)
92 kms/ 3 hrs
From Raiagar- Ram Mandir: 10 kms/ 20 minutes
Arriving from Almora via Dhaulchhina/ Sheraghat- At Raiagar, ask anyone for directions to Ram Mandir and call us. Driver in Green Marshall 6011 will meet you just before Ram  Mandir to transfer you for the last 3 kms after your parking your car in our parking. 
Ram Mandir- Misty Mountains, Jhaltola- 3 kms/ 20 minutes
This is the adventurous part of your drive. We park your vehicle at our parking and load your luggage as well as yourselves in the jeep.. From Rammandir, we follow a jungle dirt track up to the retreat. After an initial climb of about 1200 meters, the road evens out and rest of the 1500 meters is through a thick jungle that is still not able to hide the mountain vistas.
How far is Misty from Delhi?
Delhi is just under 475 kms/ 14 hours away.
What is the nearest Rail head? How far?
Kathgodam is the nearest railhead 190 kms/ 7 hours away. Most guests take a break at Bhimtal or Almora/Binsar before reaching us.
How can I get from Kathgodam? Do you arrange a cab?
We are happy to help our guests in organizing there travel and even making an extended itinerary if they are planning to stay at other places.
What is the best way to reach you?
If you enjoy driving you can drive all the way. Call us for best route and we will inform as per current conditions. If you want to come by train till Kathgodam, there are 3 trains from Delhi. We recommend Ranikhet express that reaches Kathgodam at 5:30 am.
Simply, write to us at
[email protected]
with your queries, tentative dates, details of people travelling with you and we will get back to you with all the information you need.
How to make a booking online?
Once your package details are finalized, you can transfer the funds to our bank accounts with the details that we will send you.
How to make a payment by credit card?
We do accept payment by credit card. However, for this we will have to send you a payment link and invoice. Write to us at
[email protected]
and we will send you the link.
We believe in consistency! Thank you for inspiring us to excel.
Certificate of Excellence for 2019, 2018, 2017, 2015, 2014 & 2013.